Publication Date: July 8, 2014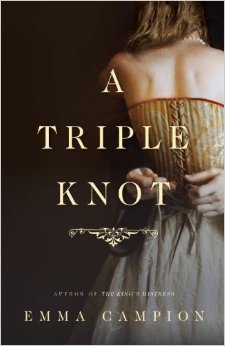 Summary
The critically acclaimed author of The King's Mistress brings another fascinating woman from history to life in an enthralling story of political intrigue, personal tragedy, and illicit love.
Joan of Kent, renowned beauty and cousin to King Edward III, is destined for a politically strategic marriage. As the king begins a long dynastic struggle to claim the crown of France, plunging England into the Hundred Years' War, he negotiates her betrothal to a potential ally and heir of a powerful lordship.
But Joan, haunted by nightmares of her father's execution at the hands of her treacherous royal kin, fears the king's selection and is not resigned to her fate. She secretly pledges herself to one of the king's own knights, one who has become a trusted friend and protector. Now she must defend her vow as the king—furious at Joan's defiance—prepares to marry her off to another man. 
In A Triple Knot, Emma Campion brings Joan, the "Fair Maid of Kent" to glorious life, deftly weaving details of King Edward III's extravagant court into a rich and emotionally resonant tale of intrigue, love, and betrayal.
About Emma
The King's Mistress was Emma Campion's first novel. Her second, A Triple Knot, about Joan of Kent, will be published in the US by Crown 29 July 2014. She has read and researched medieval history for many years, having studied for a Ph.D in Medieval and Anglo-Saxon Literature. She writes historical crime novels under the name of Candace Robb. She lives in Seattle.
Erin's Thoughts

A Triple Knot by Emma Campion
My rating: 3.5 of 5 stars

A Triple Knot by Emma Campion was an interesting read about a Plantagenet that I haven't had the opportunity to read a lot about – Joan of Kent.

The story is based in the 14th century when Edward III is king and Joan of Kent is his cousin. As Edward works to claim the crown of France, Joan becomes a pawn for Edward to make a strategic move and gain support where he needs it. Ned, who is Edward and Phillipa's first born son, believes himself in love with Joan as well and this has created another reason the queen would like to marry Joan off. As he and his wife, queen Phillipa, work to make a strategic match for Joan, things start to get complicated.

Joan was an interesting character and I really did enjoy learning more about her background and what her role was during this time period. For a girl her age, she seemed very mature and I had to keep reminding myself that although she was only 12 years old, this was a different time and it wasn't out of the ordinary that, as a royal, she wouldn't have been betrothed or married at that age – don't get me wrong, it was still unsettling.

As the story progresses, we learn more about her clandestine marriage to Thomas Holland and ultimately their life together. I was rooting for these two all the way and while they appeared to have a good life together, I also felt they were robbed of a number of years and then ultimately he was away at battle quite a bit. Never mind how things ended for Thomas.

Ned was a challenge. As a first born son of the king, he was next in line for the throne and because of that; his parents didn't want him attached to Joan. He was clearly not used to taking no for an answer and when he didn't get his way, he wasn't afraid to do whatever he felt he needed to in order to get what he wanted. This is what makes me question Thomas' end and how that all went down. Eventually he does get what he wants…Joan as his wife (even though they were first cousins).

Overall I enjoyed this story a lot. There were a lot of characters and as was the norm of the time, they all had the same names which made it difficult to remember who was whom. Despite that, this was a great peek into the life of someone in English history that I haven't had the opportunity to read a lot about. If you enjoy reading historical fiction, definitely check this one out.

Thank you to Netgalley & the publisher for the review copy.
Related Posts