Can you believe that October is over? I had an awesome vacation but didn't get much reading done while wandering around France…which makes me sad but really, who cares –  I was in France!!  🙂  Anyway – Winter is definitely coming…both in the weather and the book!  If you don't know it, I love The Lunar Chronicles series and although I will be sad about it being the last book, it is finally the last book!!  Anyway, we have a lot to talk about in our wrap up – check out what we have been up to!
AUTHOR EVENTS
YA Lit Conference & YA Fandom Frenzy
For the last two years we have had the opportunity to attend the YA Lit Conference that Anderson's Bookshop organizes and this year we had a great time!  Well – I enjoyed both days…Jaime's gallbladder had other plans.  With that said – check out our post
HERE
to read about all the fantastic authors we got to meet and hang out with.  Trust me when I say that you should consider going to this if you are ever in the area.  It's so much fun!  I have to give credit to Lori Lee for the team photo below – our team (Team Adam Silvera) placed 2nd in the trivia contest and did an awesome job!
We also (FINALLY) got to meet Huntley Fitzpatrick, hung out with David Arnold and Adam Silvera, and just had a fantastic time seeing everyone.
Book Release Party – Liza Wiemer – Hello?
Our lovely friend, Liza Wiemer, celebrated the release of her first YA novel Hello? this week and Jaime was lucky enough to be able to attend the event (I unfortunately was sitting at O'Hare…3 guesses where I would have preferred to be).  Make sure you add it to your TBR list (
Click Here
) and you all need to go out and get this book because it is fantastic! Plus, Liza is such a wonderful person and we are so excited for all the great things that are headed her way.
You guys!! We have been having so much fun with this over the last few months and really hope you will join us in September!  This is something NEWish we are starting out and will take place on the 3rd Wednesday of every month!  We love interacting with all of you and we love talking books, book boys, and gushing over our favorite authors. We couldn't think of a better way to do all of that than by combining all of those things, throwing in some awesome prizes, and having a blast while doing it!  Please join us and make sure you're following @Fictionfare and @Swoonyboys to play along!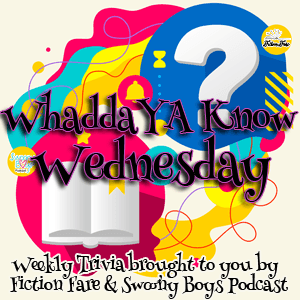 REAL BOOK CHALLENGE
We are still doing the Real Book Challenge for 2015 & we hope you will join us!  Check out what it is all about below and don't forget to join the challenge! 
Have you gotten used to reading on your Kindle, iPad, Nook, or other reading device? Do you have tons of pretty books filling your bookshelves that are just begging to be read (and maybe sniffed a little too)? Do you have a favorite book or series that you've been looking for a reason to reread? All these scenarios, and so many more, are the perfect reason to join the "Real" Book Challenge! Join us in a quest to put down the electronic devices and pick up a physical copy of your favorite book(s). 
Click the image and join the Goodreads group!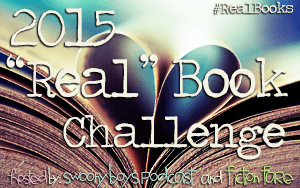 WHAT'S COMING UP THIS MONTH
Check out our monthly post by clicking on the image below so you can add the books on our list to your TBR list…if they aren't there already!  We have a great giveaway linked to it. You know…if you'd like to try to win a free book!
WHAT WE'VE BEEN READING:
Here are the books Jaime read this month:
Here are the books Erin read this month:
OUR WAITING ON WEDNESDAY PICKS WERE:
Related Posts