It is almost 2015 – Can you believe it!!  It is our last wrap up for 2014 and as we start to review what we are going to do on the blog for next year, we always want to get your feedback so if you haven't completed the Blog Reader Survey – please do so!  We would love to hear from you!!
Here we go!
We've partnered up with our lovely friends Meg & Kassiah over at Swoony Boys Podcast for some new features!  We hope you join us for all the conversations and fun!  
REAL BOOK CHALLENGE
We will be doing the Real Book Challenge for 2015 & we hope you will join us!  Check out what it is all about below and don't forget to join the challenge! 
Have you gotten used to reading on your Kindle, iPad, Nook, or other reading device? Do you have tons of pretty books filling your bookshelves that are just begging to be read (and maybe sniffed a little too)? Do you have a favorite book or series that you've been looking for a reason to reread? All these scenarios, and so many more, are the perfect reason to join the "Real" Book Challenge! Join us in a quest to put down the electronic devices and pick up a physical copy of your favorite book(s). 
Click the image and join the Goodreads group!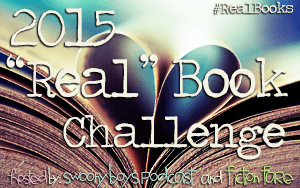 FLASHBACK FRIDAY
This is a way for us to highlight books that are older that maybe don't get as much recognition now because they have been out for a while.  Books that we read and loved or books that have been on our To Be Read lists for ages, but we just haven't gotten around to them yet. 
Click the image to read more!
December 5th Picks
December 12th Picks
December 19th Picks
December 26th Picks
WHAT'S COMING UP THIS MONTH
 Check out our December post by cl
icking on the image below so you can add the books on our list to your TBR list…if they aren't there already!
WHAT WE'VE BEEN READING:
Here are the books Jaime read this month:
Here are the books Erin read this month:

WE HAVE/HAD GIVEAWAYS FOR:
Make sure you visit the 
Giveaways 
page to enter the ones that are still open!
 We hope your December (and 2014) was as fabulous as ours was and we can't wait to see what 2015 brings everyone! Happy New Year!!
Related Posts