So if you follow me on twitter you know I want one of these ARC's … like … a lot!
Article 5 was one of my favorite books of 2012 – here's my goodread's review of it:
Article 5 by Kristen Simmons
My rating: 5 of 5 stars
I loved this book. Loved loved loved this book. I started it last night and could barely put it down to go to sleep, leaving me only a handful of pages to read today while I ate my lunch.
Article 5 takes place in the future- it's dystopian and I loved the world Simmons created here. There is no longer the bill of rights for citizens – instead there are Moral Statutes which every citizen must adhere to. If not, there are repercussions – reform school, arrests, trials or quite possibly death. We first meet Ember walking through what is left of her city discussing the whereabouts of students at her school and you can sense the eggshells that the citizens walk on day in and day out, avoiding doing something immoral or encountering an officer in the Moral Militia.
I won't give anything away, but the action in this story starts almost immediately and doesn't stop. Ember's mother is arrested for noncompliance with Article 5 and so the story begins. It was one of those books where you tell yourself just one more chapter over and over just to find out what is coming next and before you know it you're at the end, begging for more.
Chase Jennings had me determined to hate him from the beginning, but Simmons gives you glimpses and pieces of the history he shared with Ember and I couldn't, I just couldn't believe he was the person he was trying to make her believe he was. I just knew from the moment their time together began that he was hiding something from her… he wasn't telling her the whole story but he wasn't being deceitful just for the sake of it. He was bound and determined to keep her safe.
I love the strong characteristics of Ember – I love that when it came down to it, she kicked ass. There needs to be more characters like this.
There was simply not a single wasted character in this book and I'm hoping with the second book we'll see a lot more of the secondary ones again.
I think this part of the story ended perfectly, we as readers, got a full story in this book and that makes me incredibly happy. I'm excited to see what happens in the next, especially with Ember and Chase. The hints at what they had before the War and what they could have in the future makes me smile and I want more!
Fans of Divergent by Veronica Roth or Legend by Marie Lu will definitely enjoy this book!
Soooooo Book 2 comes out in February of 2013… which means I have to wait forever for this…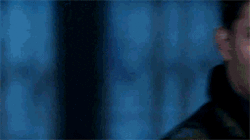 Instead of waiting, I'm going to try and win an ARC… hopefully the universe has decided to stop hating me and can help me out with this! If you haven't read Article 5 – please go do so, it's so effing good. Then you can sit here and wait with me until book 2 – Breaking Point comes out! 
OR YOU CAN ENTER TO WIN A COPY TOO!! 
 xoxo jaime
Related Posts