I know… I know… As if you don't have a million and one memes to follow! BUT we're hoping that you might want to participate in just one more!  
If you're like us, you read a lot… you add a ton to your 'to be read' lists and you sometimes forget about some amazing things because they get pushed down either your favorites list or that pile of books you need to read.  That doesn't mean those books are no less amazing!
This is a way for us to highlight books that are older that maybe don't get as much recognition now because they have been out for a while.  Books that we read and loved or books that have been on our To Be Read lists for ages, but we just haven't gotten around to them yet.  
On to the details – Pick a book… any book that meets the following criteria:  
1.  Must have been published at least 2 years ago or 
2.  Preferably is still in print or available to read
Grab our button or make your own then simply feature it on your blog… See the example below, and then come back here and link us up!! AND Spread the word!!
Jaime's Pick
NINE RULES TO BREAK WHEN ROMANCING A RAKE
By: Sarah MacLean
Publication Date:  March 30, 2010
So basically historical romance is just normally not my thing.  I don't mind it but I find that I rarely love it.  I don't entirely know why. HOWEVER… this book had me staying up way way way too late to finish and I recommend it to everyone.  Including you all reading this!  I hope to get to the others in the series soon but you definitely should give this a read if you're looking for something new!  
A lady does not smoke cheroot. She does not ride astride. She does not fence or attend duels. She does not fire a pistol, and she never gambles at a gentlemen's club.
Lady Calpurnia Hartwell has always followed the rules, rules that have left her unmarried—and more than a little unsatisfied. And so she's vowed to break the rules and live the life of pleasure she's been missing.
But to dance every dance, to steal a midnight kiss—to do those things, Callie will need a willing partner. Someone who knows everything about rule-breaking. Someone like Gabriel St. John, the Marquess of Ralston—charming and devastatingly handsome, his wicked reputation matched only by his sinful smile.
If she's not careful, she'll break the most important rule of all—the one that says that pleasure-seekers should never fall hopelessly, desperately in love.
ABOUT SARAH
Sarah MacLean is a New York Times and USA Today bestselling author of YA and adult romance.

She grew up in Rhode Island, where she spent much of her free time bemoaning the fact that she was more than a century too late for own Season. Her unabashed addiction to historical fiction helped to earn her a degree in European History from Smith College before she moved to New York City to pursue a career in publishing. After receiving a Masters in Education from Harvard University, Sarah returned to New York, where she lives with her husband, their dog, and a ridiculously large collection of romance novels.
Erin's Pick
THE IRON THORN (IRON CODEX #1)
By: Caitlin Kittredge
Publication Date: February 22, 2011

I love Science Fiction mixed with Steampunk and this book definitely has both.  There's magic, lots of action, some boys and a good story in this book.  I haven't read the rest of the series but it is complete so if you are looking for something that has great world building and an interesting story, definitely check this one out!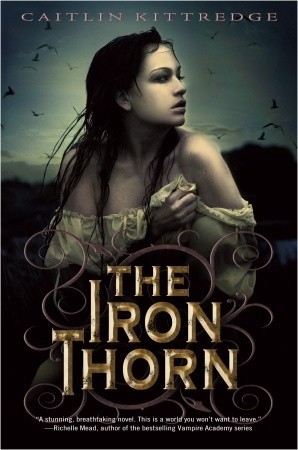 In the city of Lovecraft, the Proctors rule and a great Engine turns below the streets, grinding any resistance to their order to dust. The necrovirus is blamed for Lovecraft's epidemic of madness, for the strange and eldritch creatures that roam the streets after dark, and for everything that the city leaders deem Heretical—born of the belief in magic and witchcraft. And for Aoife Grayson, her time is growing shorter by the day.
Aoife Grayson's family is unique, in the worst way—every one of them, including her mother and her elder brother Conrad, has gone mad on their 16th birthday. And now, a ward of the state, and one of the only female students at the School of Engines, she is trying to pretend that her fate can be different.
ABOUT CAITLIN
Caitlin started writing novels at age 13. Her first was a Star Wars tie-in. Fortunately, she branched out from there and after a few years trying to be a screenwriter, a comic book writer and the author of copious amounts of fanfiction, she tried to write a novel again. Her epic dark fantasy (thankfully) never saw the light of day but while she was struggling with elves and sorcerers she got the idea of writing a story about a werewolf who fought crime.
Two years and many, many drafts later, she pitched Night Life to a bevy of agents and one of them, Rachel Vater, sold the series to St. Martin's.
Caitlin collects comic books, print books, vintage clothes, and bad habits. She loves tea, loud music, the color black (especially mixed with the color pink) and ghost stories. She can drive a stick shift, play the violin and knows more English curses than American ones.
Caitlin lives in Olympia, WA with two pushy cats.
Related Posts