I know… I know… As if you don't have a million and one memes to follow! BUT we're hoping that you might want to participate in just one more!  
If you're like us, you read a lot… you add a ton to your 'to be read' lists and you sometimes forget about some amazing things because they get pushed down either your favorites list or that pile of books you need to read.  That doesn't mean those books are no less amazing!
This is a way for us to highlight books that are older that maybe don't get as much recognition now because they have been out for a while.  Books that we read and loved or books that have been on our To Be Read lists for ages, but we just haven't gotten around to them yet.  
On to the details – Pick a book… any book that meets the following criteria:  
1.  Must have been published at least 2 years ago or 
2.  Preferably is still in print or available to read
Grab our button or make your own then simply feature it on your blog… See the example below, and then come back here and link us up!! AND Spread the word!!
Jaime's Pick
13 LITTLE BLUE ENVELOPES
By: Maureen Johnson
Publication Date:  December 21, 2010
I'm really excited to read this one … someday soon!  The summary makes me think that this is exactly perfect for me.  "Disastrous … but utterly romantic." Have you read it? Let me know what you thought in the comments! 
Inside little blue envelope 1 are $1,000 and instructions to buy a plane ticket.
In envelope 2 are directions to a specific London flat.
The note in envelope 3 tells Ginny: Find a starving artist.
Because of envelope 4, Ginny and a playwright/thief/ bloke–about–town called Keith go to Scotland together, with somewhat disastrous–though utterly romantic–results. But will she ever see him again?
Everything about Ginny will change this summer, and it's all because of the 13 little blue envelopes.
ABOUT MAUREEN
Maureen knew from an early age she wanted to be a writer. She went to high school at an all-girls' Catholic school and graduated from University of Delaware with a degree in writing. She now lives and writes in New York City.

Many of the adventures Maureen's characters face in her books are based on real-life stories. Maureen has traveled all over Europe, and is a Secret Sister to vlog brothers Hank and John Green.
Erin's Pick
CLOCKWORK ANGEL(THE INFERNAL DEVICES, #1)
By: Cassandra Clare
Publication Date: August 31, 2010

I know there are a number of people who have mixed feelings about this series but I have to admit I really enjoyed this one…more than the Mortal Instruments series (don't hate me).  I liked these characters more and the fact that it is Historical with a side of Steampunk/Fantasy, it was a series I couldn't wait to get through.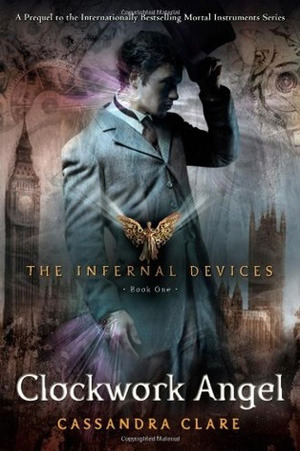 In a time when Shadowhunters are barely winning the fight against the forces of darkness, one battle will change the course of history forever. Welcome to the Infernal Devices trilogy, a stunning and dangerous prequel to the New York Times bestselling Mortal Instruments series.
The year is 1878. Tessa Gray descends into London's dark supernatural underworld in search of her missing brother. She soon discovers that her only allies are the demon-slaying Shadowhunters—including Will and Jem, the mysterious boys she is attracted to. Soon they find themselves up against the Pandemonium Club, a secret organization of vampires, demons, warlocks, and humans. Equipped with a magical army of unstoppable clockwork creatures, the Club is out to rule the British Empire, and only Tessa and her allies can stop them….
ABOUT CASSANDRA
Cassandra Clare was born overseas and spent her early years traveling around the world with her family and several trunks of fantasy books. Cassandra worked for several years as an entertainment journalist for the Hollywood Reporter before turning her attention to fiction. She is the author of City of Bones, the first book in the Mortal Instruments trilogy and a New York Times bestseller. Cassandra lives with her fiance and their two cats in Massachusetts.
Related Posts