I know… I know… As if you don't have a million and one memes to follow! BUT we're hoping that you might want to participate in just one more!  
If you're like us, you read a lot… you add a ton to your 'to be read' lists and you sometimes forget about some amazing things because they get pushed down either your favorites list or that pile of books you need to read.  That doesn't mean those books are no less amazing!
This is a way for us to highlight books that are older that maybe don't get as much recognition now because they have been out for a while.  Books that we read and loved or books that have been on our To Be Read lists for ages, but we just haven't gotten around to them yet.  
On to the details – Pick a book… any book that meets the following criteria:  
1.  Must have been published at least 2 years ago or 
2.  Preferably is still in print or available to read
Grab our button or make your own then simply feature it on your blog… See the example below, and then come back here and link us up!! AND Spread the word!!
Jaime's Pick
THE ADORATION OF JENNA FOX
By: Mary Pearson
Publication Date: September 1, 2009
I picked up this right after I read The Kiss of Deception by Mary because I fell completely in love with her writing!  Plus people had been telling me read this for a loooooong time.  I really enjoyed this one – and what a unique plot and story!! Definitely grab this one and read it as soon as you can! I am excited to get to the others in the series now too! 
Everything is different
Seventeen-year-old Jenna Fox has just awoken from a year-long coma – so she's been told – and she is still recovering from the terrible accident that caused it. But what happened before that? She's been given home movies chronicling her entire life, which spark memories to surface. But are the memories really hers? And why won't anyone in her family talk about the accident? Jenna is becoming more curious. But she is also afraid of what she might find out if she ever gets up the courage to ask her questions.
What happened to Jenna Fox? And who is she really?
ABOUT MARY
Mary E. Pearson is the award-winning author of The Jenna Fox Chronicles, The Miles Between, A Room on Lorelei, and Scribbler of Dreams.  She writes full-time from her home office in California where she lives with her husband and two golden retrievers.
Erin's Pick
If you know me at all, you know how much I love The Cahill Witch Chronicles series.  If you didn't know this….now you do.  This is one of my favorite witch series out there and not just because there is a super swoony boy with Finn (though, let's be honest…that really helps)!  I love the main character and Spotswood really knows how to keep a reader invested in a story. If you haven't started this series yet, do so quickly!  The third (and final) book of the series comes out in August and you won't want to miss out on what happens!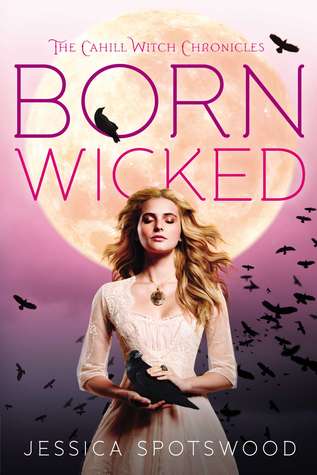 A gorgeous, witchy, romantic fantasy by a debut author! Perfect for fans of Kristin Cashore and the Beautiful Creatures series!
Everybody thinks Cate Cahill and her sisters are eccentric. Too pretty, too reclusive, and far too educated for their own good. But the truth is even worse: they're witches. And if their secret is discovered by the priests of the Brotherhood, it would mean an asylum, a prison ship–or an early grave. Then Cate finds her mother's diary, and uncovers a secret that could spell her family's destruction. Desperate to find alternatives to their fate, Cate starts scouring banned books and questioning rebellious new friends, all while juggling tea parties, shocking marriage proposals, and a forbidden romance with the completely unsuitable Finn Belastra. But if what her mother wrote is true, the Cahill girls aren't safe–not even from each other.
ABOUT JESSICA
I grew up in a tiny one-stoplight town in Pennsylvania, where I could be found swimming, playing clarinet, memorizing lines for the school play, or—most often—with my nose in a book. I've been writing since I was little but studied theatre in college and grad school. Now I live in Washington, DC with my brilliant playwright husband and a cuddly cat named Monkey.
Related Posts