I know… I know… As if you don't have a million and one memes to follow! BUT we're hoping that you might want to participate in just one more!  
If you're like us, you read a lot… you add a ton to your 'to be read' lists and you sometimes forget about some amazing things because they get pushed down either your favorites list or that pile of books you need to read.  That doesn't mean those books are no less amazing!
This is a way for us to highlight books that are older that maybe don't get as much recognition now because they have been out for a while.  Books that we read and loved or books that have been on our To Be Read lists for ages, but we just haven't gotten around to them yet.  
On to the details – Pick a book… any book that meets the following criteria:  
1.  Must have been published at least 2 years ago or 
2.  Preferably is still in print or available to read
Grab our button or make your own then simply feature it on your blog… See the example below, and then come back here and link us up!! AND Spread the word!!
Jaime's Pick
RUBY RED
By: Kerstin Gier
Publication Date: May 22, 2012
I absolutely adored this series! I actually listened to the audio, but knew immediately that I was going to buy the books for my bookshelf as well!  Loved Gwen and yes, even Gideon!! 
Although I had never seen him before, I recognized him immediately. I'd have known his voice anywhere. This was the guy I'd seen on my last journey back in time.

Or more precisely, the one who'd kissed my doppelganger while I was hiding behind the curtain in disbelief.
Sixteen-year-old Gwen lives with her extended – and rather eccentric – family in an exclusive London neighborhood. In spite of her ancestors' peculiar history, she's had a relatively normal life so far. The time-traveling gene that runs like a secret thread through the female half of the family is supposed to have skipped over Gwen, so she hasn't been introduced to "the mysteries," and can spend her time hanging out with her best friend, Lesly. It comes as an unwelcome surprise when she starts taking sudden, uncontrolled leaps into the past.
She's totally unprepared for time travel, not to mention all that comes with it: fancy clothes, archaic manners, a mysterious secret society, and Gideon, her time-traveling counterpart. He's obnoxious, a know-it-all, and possibly the best-looking guy she's seen in any century. 
Erin's Pick
For those of you who like to hold out until a series is complete, you are now free and clear to begin The Daughter of Smoke & Bone as the last book just recently came out.  I love everything about this book – the characters, the world that is created, and the plot.  I also just listened to the audio of this to prepare for the third book and it is really good.  If you haven't checked this series out yet, definitely add it to the top of your list!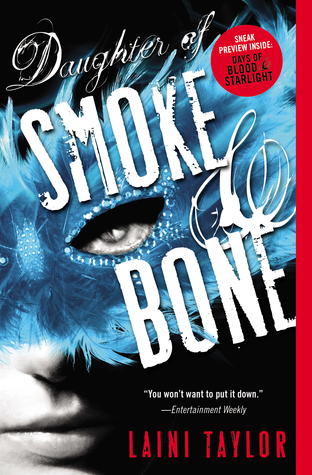 Around the world, black handprints are appearing on doorways, scorched there by winged strangers who have crept through a slit in the sky.
In a dark and dusty shop, a devil's supply of human teeth grown dangerously low.
And in the tangled lanes of Prague, a young art student is about to be caught up in a brutal otherwordly war.
Meet Karou. She fills her sketchbooks with monsters that may or may not be real; she's prone to disappearing on mysterious "errands"; she speaks many languages–not all of them human; and her bright blue hair actually grows out of her head that color. Who is she? That is the question that haunts her, and she's about to find out.
When one of the strangers–beautiful, haunted Akiva–fixes his fire-colored eyes on her in an alley in Marrakesh, the result is blood and starlight, secrets unveiled, and a star-crossed love whose roots drink deep of a violent past. But will Karou live to regret learning the truth about herself?
ABOUT LAINI
Hi there! I'm a writer of fantasy books for young people, but my books can be enjoyed by adults as well. My 'Dreamdark' books, Blackbringer (2007) and Silksinger (2009) are about faeries — not dainty little flowery things, but warrior-faeries who battle devils. My first young adult book, Lips Touch, is a finalist for the 2009 National Book Award! It's creepy, sensual supernatural romance. . . about kissing. I am also an artist with a licensed gift product line called "Laini's Ladies."
Related Posts