I know… I know… As if you don't have a million and one memes to follow! BUT we're hoping that you might want to participate in just one more!  
If you're like us, you read a lot… you add a ton to your 'to be read' lists and you sometimes forget about some amazing things because they get pushed down either your favorites list or that pile of books you need to read.  That doesn't mean those books are no less amazing!
This is a way for us to highlight books that are older that maybe don't get as much recognition now because they have been out for a while.  Books that we read and loved or books that have been on our To Be Read lists for ages, but we just haven't gotten around to them yet.  
On to the details – Pick a book… any book that meets the following criteria:  
1.  Must have been published at least 2 years ago or 
2.  Preferably is still in print or available to read
Grab our button or make your own then simply feature it on your blog… See the example below, and then come back here and link us up!! AND Spread the word!!
Jaime's Pick
A CERTAIN SLANT OF LIGHT
By: Laura Whitcomb 
Publication Date:  September 21, 2005

This book needs to be bumped up my to read list, I own it… I have been wanting to read it, I just haven't gotten to it yet. Doesn't it sound amazing??? Have you read it? Do you want to read it with me? 
In the class of the high school English teacher she has been haunting, Helen feels them: for the first time in 130 years, human eyes are looking at her. They belong to a boy, a boy who has not seemed remarkable until now. And Helen–terrified, but intrigued–is drawn to him. The fact that he is in a body and she is not presents this unlikely couple with their first challenge. But as the lovers struggle to find a way to be together, they begin to discover the secrets of their former lives and of the young people they come to possess.
ABOUT LAURA
Laura Whitcomb grew up in Pasadena, California in a mildly haunted house. She received her English degree at California State University at Northridge in 1993. She has taught Language Arts in California and Hawaii. She has won three Kay Snow Awards and was once runner up in the Bulwer-Lytton writing contest for the best first sentence of the worst Science Fiction novel never written. In her spare time she sings madrigals with the Sherwood Renaissance Singers and is the props mistress for the Portland Christmas Revels. She lives in Wilsonville, Oregon, with her son Robinson.
The movie rights for A Certain Slant of Light sold to Kristin Hahn, producer of The Departed. ACSOL will be published in Italian, Chinese, Japanese, Korean, Spanish, German, Polish, and Turkish. The audio book is published by Listening Library. In 2005 ACSOL was also chosen for the "Discover Great New Writers" program at Barnes & Noble bookstores.
The Fetch was #5 in the top ten of Children's Indie Next List 2009 and was published as an audio book by Recorded Books. The paperback will be available in fall 2010.
Erin's Pick
A Great and Terrible Beauty (Gemma Doyle #1)
By: Libba Bray
Publication Date: December 9, 2003
This book/series is one I have been wanting to read for a long time and it has just been staring me down from my bookshelf.  I have committed to myself that I would read it this year…no matter what! I know I will love it and I can't wait for a break so that I can dive into this and the other two books in the series.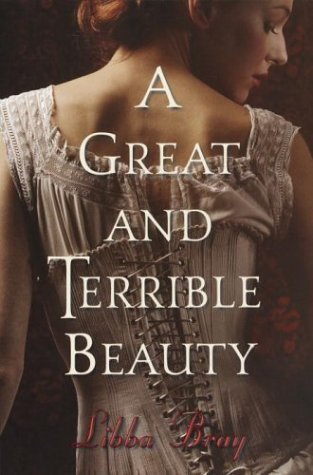 A Victorian boarding school story, a Gothic mansion mystery, a gossipy romp about a clique of girlfriends, and a dark other-worldly fantasy–jumble them all together and you have this complicated and unusual first novel.
Sixteen-year-old Gemma has had an unconventional upbringing in India, until the day she foresees her mother's death in a black, swirling vision that turns out to be true. Sent back to England, she is enrolled at Spence, a girls' academy with a mysterious burned-out East Wing. There Gemma is snubbed by powerful Felicity, beautiful Pippa, and even her own dumpy roommate Ann, until she blackmails herself and Ann into the treacherous clique. Gemma is distressed to find that she has been followed from India by Kartik, a beautiful young man who warns her to fight off the visions. Nevertheless, they continue, and one night she is led by a child-spirit to find a diary that reveals the secrets of a mystical Order. The clique soon finds a way to accompany Gemma to the other-world realms of her visions "for a bit of fun" and to taste the power they will never have as Victorian wives, but they discover that the delights of the realms are overwhelmed by a menace they cannot control. Gemma is left with the knowledge that her role as the link between worlds leaves her with a mission to seek out the "others" and rebuild the Order. A Great and Terrible Beauty is an impressive first book in what should prove to be a fascinating trilogy.
ABOUT LIBBA
Libba Bray is the New York Times bestselling author of The Gemma Doyle trilogy (A Great and Terrible Beauty, Rebel Angels, The Sweet Far Thing); the Michael L. Printz Award-winning Going Bovine; Beauty Queens, an L.A. Times Book Prize finalist; and The Diviners series. She is originally from Texas but makes her home in Brooklyn, NY, with her husband, son, and two sociopathic cats.  You can find her at…oh, wait. You already did. Nevermind—you are a genius!
Related Posts