I know… I know… As if you don't have a million and one memes to follow! BUT we're hoping that you might want to participate in just one more!  
If you're like us, you read a lot… you add a ton to your 'to be read' lists and you sometimes forget about some amazing things because they get pushed down either your favorites list or that pile of books you need to read.  That doesn't mean those books are no less amazing!
This is a way for us to highlight books that are older that maybe don't get as much recognition now because they have been out for a while.  Books that we read and loved or books that have been on our To Be Read lists for ages, but we just haven't gotten around to them yet.  
On to the details – Pick a book… any book that meets the following criteria:  
1.  Must have been published at least 2 years ago or 
2.  Preferably is still in print or available to read
Grab our button or make your own then simply feature it on your blog… See the example below, and then come back here and link us up!! AND Spread the word!!
Jaime's Pick
HOW TO KILL A ROCKSTAR
By: Tiffanie DeBartolo
Publication Date: September 1, 2005
One of my absolute, all-time favorite books!  If you haven't read this one yet, I can't stress enough to you how much you need to go get it immediately.  This is a book I pick up often and read random parts of it and then set it back down again – I'm hoping to do a full reread soon!
Written in her wonderfully honest, edgy, passionate and often hilarious voice, Tiffanie DeBartolo tells the story of Eliza Caelum, a young music journalist, and Paul Hudson, a talented songwriter and lead singer of the band Bananafish. Eliza's reverence for rock is equaled only by Paul's, and the two fall wildly in love. 
When Bananafish is signed by a big corporate label, and Paul is on his way to becoming a major rock star, Eliza must make a heartbreaking decision that leads to Paul's sudden disappearance and a surprise knock-your-socks-off ending.
Erin's Pick
MATCHED (MATCHED, #1)
By: Ally Condie
Publication Date: November 30, 2010

This was one of the first Dystopian series I read when I started reading YA again and I really enjoyed it.  In a sea of books in the genre I found this one stood out for me because the characters were well developed and the story was one that grabbed my interest and wouldn't let me put it down until I found out what happened.  This is a complete series so if you dive into this one, you can read all the way through!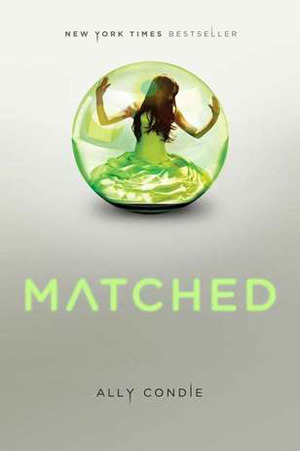 Cassia has always trusted the Society to make the right choices for her: what to read, what to watch, what to believe. So when Xander's face appears on-screen at her Matching ceremony, Cassia knows with complete certainty that he is her ideal mate… until she sees Ky Markham's face flash for an instant before the screen fades to black.
The Society tells her it's a glitch, a rare malfunction, and that she should focus on the happy life she's destined to lead with Xander. But Cassia can't stop thinking about Ky, and as they slowly fall in love, Cassia begins to doubt the Society's infallibility and is faced with an impossible choice: between Xander and Ky, between the only life she's known and a path that no one else has dared to follow.
Related Posts