I know… I know… As if you don't have a million and one memes to follow! BUT we're hoping that you might want to participate in just one more!  
If you're like us, you read a lot… you add a ton to your 'to be read' lists and you sometimes forget about some amazing things because they get pushed down either your favorites list or that pile of books you need to read.  That doesn't mean those books are no less amazing!
This is a way for us to highlight books that are older that maybe don't get as much recognition now because they have been out for a while.  Books that we read and loved or books that have been on our To Be Read lists for ages, but we just haven't gotten around to them yet.  
On to the details – Pick a book… any book that meets the following criteria:  
1.  Must have been published at least 2 years ago or 
2.  Preferably is still in print or available to read
Grab our button or make your own then simply feature it on your blog… See the example below, and then come back here and link us up!! AND Spread the word!!
SHATTER ME (SHATTER ME, #1)
By: Tahereh Mafi
Publication Date:  October 2, 2012

First I have to say, the new version of this cover makes me happy because it is so pretty.  Second, I know there are mixed feelings on how this series goes but I go back to the fact that when I read this book I loved everything about it…regardless of how the series moves forward, this was one of those books I read and immediately needed the next book to see what happens.  And finally…ADAM!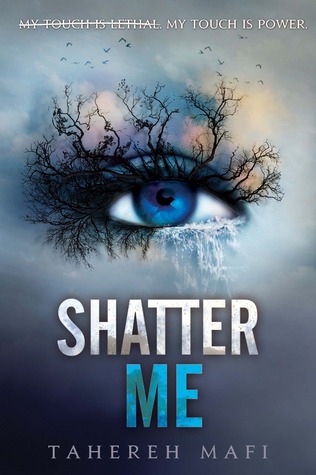 Juliette hasn't touched anyone in exactly 264 days.
The last time she did, it was an accident, but The Reestablishment locked her up for murder. No one knows why Juliette's touch is fatal. As long as she doesn't hurt anyone else, no one really cares. The world is too busy crumbling to pieces to pay attention to a 17-year-old girl. Diseases are destroying the population, food is hard to find, birds don't fly anymore, and the clouds are the wrong color.
The Reestablishment said their way was the only way to fix things, so they threw Juliette in a cell. Now so many people are dead that the survivors are whispering war – and The Reestablishment has changed its mind. Maybe Juliette is more than a tortured soul stuffed into a poisonous body. Maybe she's exactly what they need right now.
Juliette has to make a choice: Be a weapon. Or be a warrior.
ABOUT TAHEREH
She was born in a small city somewhere in Connecticut and currently resides in Santa Monica, California, where she drinks too much caffeine and finds the weather to be just a little too perfect for her taste. 
When unable to find a book, she can be found reading candy wrappers, coupons, and old receipts.
Related Posts