It's been a crazy couple of weeks around here what with all the awesome giveaways and our incredible trip to NYC for BEA 2013~  It was our first time there so we had NO clue what to expect at all, thankfully we had our lovely tour guides and friends Meg & Kassiah from Swoony Boy Podcast to help us out!!
Since there was so much happening we couldn't possibly tell you about every single thing, so instead for this post, we're going to highlight the top things for us from BEA.  (Don't worry, we're going to be posting a podcast where we discuss everything soon!)

1.  The Rooftop Party – First of all the host of this party, Liza, is amazing. If you aren't following her yet, please make sure you do so now.  Her blog can be found here. The views at this party were incredible. I can't even explain it, but you could see the Statue of Liberty, you could see the city, you could see Jersey! Paper Lantern Lit & The Novl were sponsors of the party and they did an amazing job – please make sure you're following them.  We had the opportunity to mingle and chat with authors like Veronica Rossi, Megan McCafferty, Lauren Oliver (who had killer shoes on btw), Gretchen McNeil, Holly Black, Stacy Kramer, Val Thomas, Allen Zadoff , Amy Tintera, Dan Krokos, Elizabeth Norris, Susan Dennard, Erin Bowman, Sarah Maas, and Katie McGarry… and those are just the few that I met… there were so many others there!   But enough of my blathering about this amazing time – We'll be talking more about this in the podcast!

2.  The Harlequin Teen Author Blogger Breakfast – We had a great time kicking off BEA with the teen author breakfast!  We had the chance to visit a bit with our fellow bloggers, but the highlight was having the authors, editors and publicists come around to our tables in a round robin style to talk to us about anything and everything.  Plus we got to snag some of Harlequin's hottest titles!!  

3.  The Harpercollins Blogger Party – I totally wanted to kiss Kassiah and Meg for getting us into this party because 1. Robyn Schneider, 2. Katie Sise, 3. Tahereh Mafi, 4. Eve Silver, 5. Margot & Aubrey from #teatime  Thank you to Alison who let Kassiah and Meg add us as their guests because otherwise we would have missed out on an amazing time!!

4.  The HC Blogger Ice Cream Social – We got invited to a lovely little gathering of bloggers to meet with Heather Doss over at Harpercollins and while we spent the morning 'touring' the city, we made it to this get together with plenty of time to spare.  Heather was so wonderful and shared some information on upcoming titles and really got us excited to read some of the books that are coming out very soon!  It was a great time!

5.  Meeting Authors – We were so excited to meet some of our favorite authors and while we had a list, we got some unexpected meetings as well! Tracey Garvis-Graves was incredibly high on my list and in fact we got into her line over an hour early to make sure we didn't miss out and she was as lovely as we imagined. After chatting with her via email, and twitter and facebook it was incredible to meet her face to face finally.  

Which leads me to Katie Sise.  I adore her.  I don't know what else I can say about her to encapsulate all my feelings. We inadvertently met at the HC blogger party, only I never like to assume that people know who I am so I was all… "I'm Jaime" and we chatted and then that evening I posted a picture of my book that she signed and I swear the DM's I received from Katie are priceless.  I made it over to her signing line on Friday and gave her a proper hello.  

Robyn Schneider is the cutest and sweetest and she was also at the top of my list of authors to meet while at BEA.  I adored her book The Beginning of Everything, but if you ever get the opportunity to meet her… take it. She's the best.  

Just so you all know, I have a total girl crush on Rainbow Rowell. I would have stood in line all damn day just to meet her again, thankfully we got to the line somewhat early so we didn't have to wait too long, but believe me, there were a TON of people there to meet her.  She's so wonderful and sweet and just totally made my day! 

I also finally got to meet the lovely Trisha Leigh. I adored her The Last Year Series and we've chatted a ton via twitter and it was so great to see her super cute face and dresses in person! 🙂 

6.  Meeting Friends – Kassiah and I have been twitter and email friends for years now… we've never had a proper meeting because we don't exactly live near each other. This trip changed all that. And meeting the lovely Meg was just as wonderful – There were lots of hugs and laughs and inappropriate chats happening the entire time we were together.  Not only were we able to finally meet them in person, but we also got to hang out with some other friends that we've known for years who live in NYC!

7.  Top Grabs Thursday – It's hard to narrow down what the best things we got were because we got some pretty amazing things… but I have to admit that getting my hands on Antigoddess was pretty wonderful.  We also got Across A Star Swept Sea, These Broken Stars, The Infinite Moment of Us, The Summer My Life Began, Rush & Covet!

8.  Top Grabs Friday – Friday found us taking it a bit easy, but we still managed to get Altered, Fangirl, The Dream Thieves, Crown of Midnight (OMG) and even though Jennifer Armentrout wasn't there we got a copy of Frigid! 


So in a quick short recap, those are the things that really made the trip as amazing as it was.  
Did you go to BEA? What was your favorite thing?  If you didn't are you looking forward to anything we mentioned? 
Never fear – we didn't come back without a plan for all of you friends!  We have an amazing giveaway – we're posting it in conjuction with Swoony Boys Podcast, The Fictionators & Divergent Lexicon!   Make sure you enter!!  And watch for our post next week that will include a podcast where discuss our trip and adventures!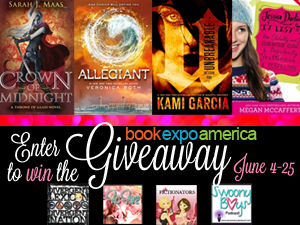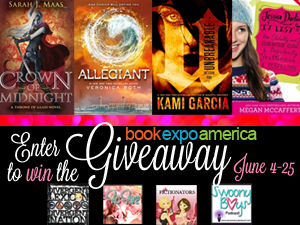 Related Posts